Big Data, AI, Machine Learning … Applied to buildings, these technologies will help develop the whole sector from its conception phase down to buildings' operation. Hxperience, specialised in innovative digital services for buildings, explains some basic AI concepts and presents concrete examples of application in the building industry.
IA, Big Data, Machine Learning: different concepts serving Smart Building
For Marvin Lee Minsky, one of the founding fathers of artificial intelligence (AI), this notion is defined by: "the construction of computer programs that engage in tasks that are, for the moment, accomplished more satisfactory by human beings because they require high-level mental processes such as: perceptual learning, memory organization and critical reasoning. "
Machine Learning is one particular form of artificial intelligence based on a learning system. In practice, this technology relies on the data collected and also takes into account all the relevant variables that can have an impact on the use case (the energy consumption of a building, for example) in order to predict the future (the future consumption in that case). Machine Learning thus makes it possible to adapt to development and changes related to a building lifecycle.
Machine Learning uses Big Data to make predictions from data. Big Data refers to a very large set of data that no conventional database management tool can really process. For information, in 2018, the total amount of information stored in computer systems worldwide reached 33 zettabytes (Source lebigdata.fr). In the coming years, the available data will increase significantly thanks to the massive roll out of connected objects for data collection and that of Cloud systems to store and archive that data.
One of the key challenges when it comes to Artificial Intelligence is to choose the appropriate datasets that will have to be used wisely according to the defined business characteristics and objectives in order to provide relevant information. And the objectives will differ whether the user is a real estate property manager, a building operator or a Facility Manager for example.
Collect, Process and Analyze: a first step towards artificial intelligence
Smart Building solutions such as SMATI rely on IoT technology to collect building data in real time. The step of processing and correcting the data from the sensors, while not considered as artificial intelligence itself, is nevertheless critical to provide quality data to the analysis algorithms. The data analysis and the calculation of performance indicators to feed dashboards, allows to offer a complete and precise overview of real estate.
Model, Learn, Predict: SMATI's AI Approach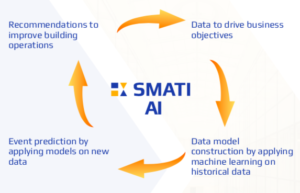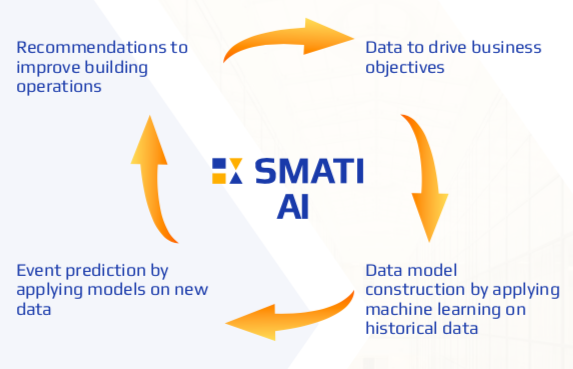 With artificial intelligence, SMATI from HXperience builds models based on historical data collected to predict failures of critical installations in buildings for example. Predictive maintenance makes it possible, not only to reduce the operational costs of maintenance ,but also to guarantee a continuity of service of the equipment.
Adapting buildings to users' habits is an important issue. Thanks to machine learning, the algorithms are able to learn from the uses and to automatically adapt the instructions to the equipment. This brings both comfort to occupants and improves energy performance by controlling expenses with effective equipment control.
AI examples of application
Logista Hometech is a company that offers and develops tailor-made maintenance solutions in the field of heating, ventilation and plumbing / sanitary. The company needed a solution to collect, analyze and visualize data from its connected devices on a single platform.
Today, thanks to all the data collected, stored and analyzed by SMATI on selected critical equipment (such as ventilation systems for example), Logista Hometech is able to anticipate the malfunctions of this equipment and can thus intervene in anticipation, before a failure occurs.
This predictive maintenance approach allows them:
to avoid equipment breakdowns and ensure a better quality of service (no service outage) for customers and building occupants
to preserve the property assets of their social landlords clients (by reducing the humidity within buildings caused by the CMV malfunctions for example)
to eliminate unnecessary on-site travel and reduce maintenance costs
"SMATI enables us to improve the diagnosis and remote management of connected equipment and thus to become a specialist in predictive and proactive maintenance," says Caroline Mezo, Marketing and Innovation Director at Logista Hometech. Indeed, thanks to SMATI, and especially to its equipment trouble shooting and remote control, the company is targeting a 20% decrease in on-site visits .
In a second step Logista Hometech aims to offer social landlords new services on complex issues such as the building energy performance, the fight against fuel poverty (which affects 1 tenant out of 5 in social housing according to the Abbe Pierre Foundation), or services for elderly people. These innovative services will be based on the usage models developed within the SMATI IA module.
In the field of hotel operations, AccorInvest, which deploys the SMATI solution on their entire hotel installed based, unveils its ambitions through Arnaud Patat, Senior Vice President Digital, Construction & Innovation AccorInvest: "The SMATI solution in its water & energy monitoring use case brings us now a first response to our business changing environment and needs. The teams are already thinking about the different algorithms that we will be able to add on these data in order to always act faster, in the interest of our customers and in order to further reduce of our carbon footprint ".
The artificial intelligence features available in SMATI must facilitate the implementation of high value innovative services.
Want to know more about the different features of the SMATI solution? Contact our team of experts.